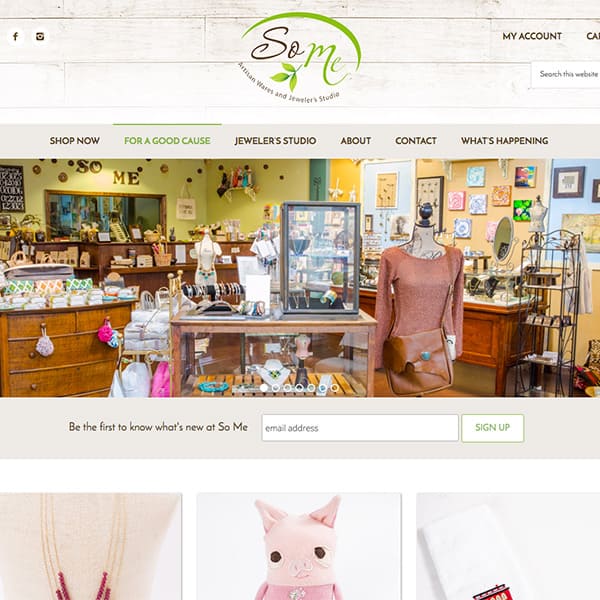 I'm really excited to announce the release of this website! The client is So Me Artisan Wares and Jeweler's Studio located in Glenshaw, PA. It's a really fun shop that features handmade jewelry and lots of beautiful decor items and cute kids things. The owner, Amy Klein McGinley is also a jeweler and can design custom pieces! They are amazing. Keep her in mind for a special gift or even if you need a favorite piece repaired.
Amy wanted her website to reflect the welcoming and eclectic vibe in her store. We chose that white-washed wood background to give it that unique touch and then just let the photography of her store and products do all the work. I kept a very minimal, clean design to allow her products to be the focus.
Functionally, this website is no lightweight. Powered by the industry leading ecommerce platform, WooCommerce, you can shop right on the site. She can manage her inventory and even automatically notify customers when an out of stock item is available. She is also able to capture her customers' email addresses so that she can use email marketing to keep in touch with them about events and sales at the store.
This was a really fun and challenging project, and I'm so grateful for opportunity to develop this ecommerce site for So Me! I'd love to hear some feedback on this one!